History
A.V. Olsson was founded in the 1920s by Adolf Viktor Olsson, a Swedish immigrant to New York City. The company is presently owned and operated by the family's third generation, and it is a source of great pride that we still do business today with some of the accounts that our Grandfather Adolf Olsson started in the 1920s and 1930s. Although all of these businesses have evolved in many different ways over the years, as has A.V. Olsson Trading Co., it is significant that our ties to each other have stood the test of time.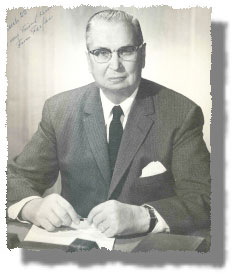 Adolf Olsson was born on the family's farm outside of Lysekil in Bohuslän, Sweden in October 1897. He was the youngest of 14 children, and the family was deeply involved with all aspects of the local food business including farming, fishing, packing, and so on.

Adolf Olsson immigrated to the United States in 1926 and settled in Brooklyn, New York with his wife, Ragnhild. He soon began importing Swedish Foodstuffs from his brothers, and sold them door-to-door. The many native-born Scandinavian immigrants who were living in New York City were a ready market for the food they remembered from home. Old invoices in our archives from the 1920s and 1930s list some of the foods that were popular at the time, including fiskbullar, aptitbitar, sill, ansjovis, and knäckebröd.

Adolf Olsson worked hard during the depression years, and gradually the business grew. Stores began stocking the products he was importing; first in New York, then in other cities where Scandinavians settled including Chicago, Minneapolis, Seattle, Los Angeles, and Worcester. Wagon Jobbers, known today as specialty food distributors, began handling his products. Today, A.V. Olsson products are available nationwide in a variety of retail, wholesale, and foodservice outlets.

A.V. Olsson Trading Co. is a business owned and operated by the Olsson family. Adolf's son, Lennart, joined his father in the business in 1954, and then his son, Kenneth, joined his father and grandfather in 1979. In this regard, A.V. Olsson is not a Swedish business per se. However, a significant share of our business is with Swedish products. In fact, 40 percent of our overall turnover comes from goods that we import directly from Sweden. Equally important, our relationships with some of the Swedish firms we represent in the U.S. go back for many, many years.